Pacific Tower
at
168 Surma Vally, Tupkhana, Sylhet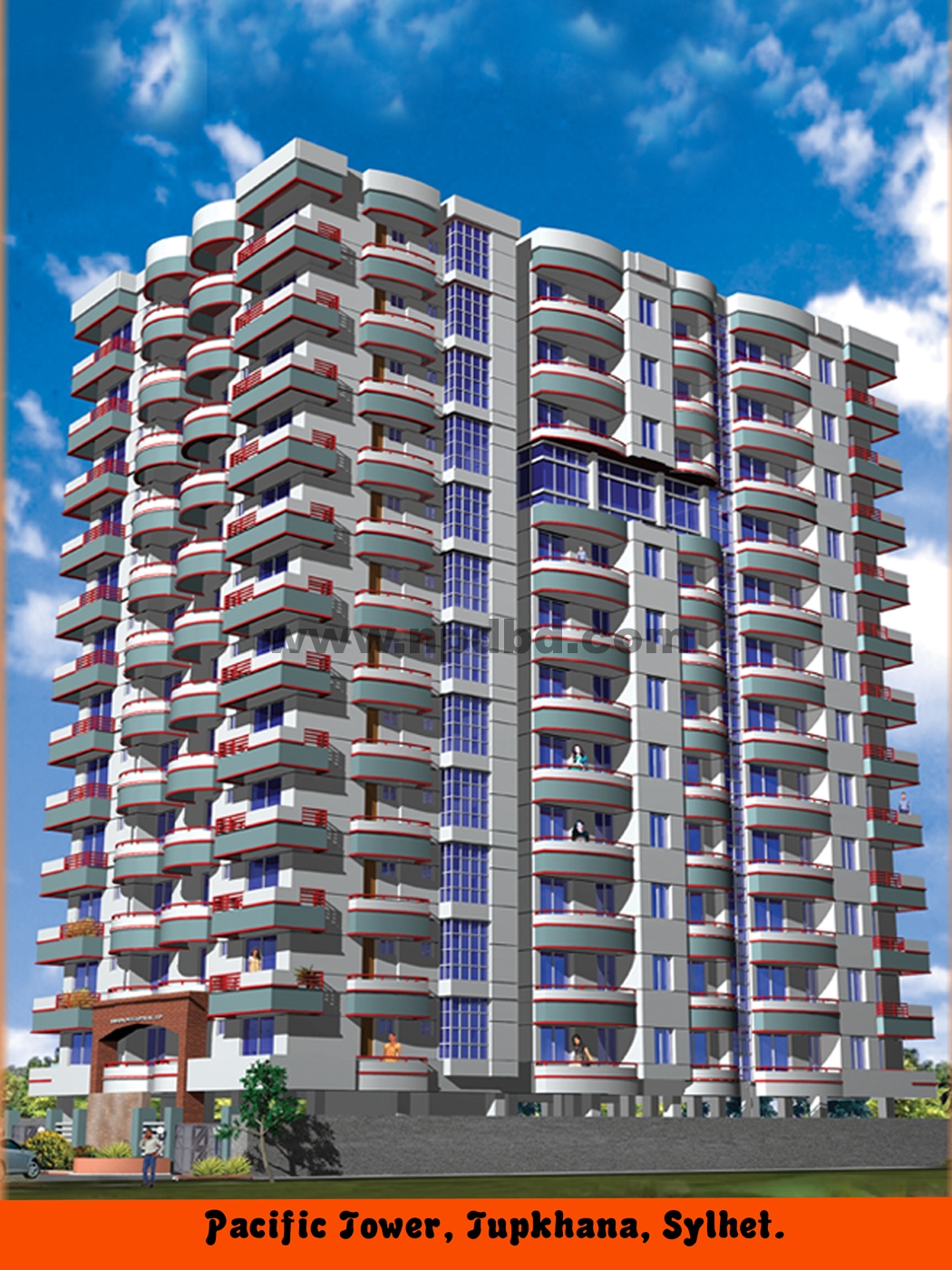 Architectural View
More Details:
Project Details
Project Name:
Pacific Tower
Building Type:
Apartment
Client:
Nabida Development Pvt. Ltd.
Location:
168 Surma Vally, Tupkhana, Sylhet
Height:
Construction Area:
Ref ID:
04
Work Status:
Ongoing
Service Provided:
Architectural Design
Structural Design
Electrical Design
Plumbing & Sanitary Design
Graphic Design
3D Modeling
Cost Estimation
Description:
"Pacific Tower" is a Luxurious 13 (Thirteen) storied apartment house, a project of Nabida Development (Pvt.) Ltd. The management of the project has taken initiative with a view to help reduce the housing scarcity of the Sylhet city, the home of Hazrat Shah Jalal & Hazrat Shahporan (R) and other 360 Saints resting in this soil. Excellent location, flow of river and adjacent to police barracks made this place unique for comfort & secured living. Management of Pacific Tower has equipped all of modern facilities, Safety & Security measures and has maintained international standard in this apartment complex considering the needs of our expatriate Bangladeshis who is living abroad, support us & contributing our social economic condition in various ways.

Location: Pacific Tower is situated on the bank of Surma River at Tupkhana road adjacent to Sylhet Kotowaly police station and within walking distance of Pauro Pathagar, Sharada Hall, Kean Bridge and Sylhet Circuit House. It is about 500 yards away from Kazir Bazar Madrashs, District Judge Court, Office of divisional commissioner, Police super office etc. Sylhet Govt Pilot High School, Public Works Department, Sylhet BTCL office etc are about a kilometer apart in their respective direction, City's busiest places like Bondor Bazar & Zindabazar are about 10 minutes drive way from this project location.

Briefly "Pacific Tower":

Project Name: Pacific tower
Project Address: Tupkhana Road, Sylhet.
Nos. of Floor: 13 (Thirteen)
Number of Apartment: 06 (Six) apartment each floor.
Size of Apartment: Type A- 1325 sft, Type B- 1340 sft, Type C-1130sft.
Type D: 1140 sft, Type E: 1360sft, Type F: 1420sft.
Ground floor: Car Parking.
Basement floor: Car Parking.

General facilities & Amenities:

* 02 (Two) nos standard size lift.
* Standby Generator.
* Spacious stair case.
* Large parking facilities.
* Telephone & multi-channel dish connection in each flat.
* Good quality standard glazed tiles for floors.
* Bathrooms fitted with all modern fittings.
* Hot & Cold water facility.
* Kitchen will fitted with double burner gas outlet, Single-bow single-tray stainless steel sinks, and good quality exhaust fan with cover.
* Sliding aluminum windows with 3" standard BTA anodized sections with 5mm clear glass (imported) complete with lock, roller & mohair lining. Grill and Mosquito net also provided.


Security :

* Spacious entrance and driveway with 24 hours security arrangement to control of incoming and outgoing vehicle, persons, goods etc.
* Full of under C.C.TV camera
* Reception with all modern facilities.
* PABX/ Intercom facility with each apartment.
* Modern fire fighting system. Fire extinguisher, smoke detector & other fire mitigating equipments will be available in each floor.

Structural Feature:

• Total project will be designed and supervised by the experienced and professional structural design engineers.
• Building design parameters will be based on Bangladesh National Building Code (BNBC), American concrete institute (ACI) and American Standard of Testing Materials (ASTM) Codes.
• Comprehensive checking and testing of concrete & reinforcement at recognized testing authority such as BUET, SUST, Bangladesh House Building Research Institute etc.
• Earthquake and Wind force intensity has been considered in structural design as per Bangladesh National Building Code (BNBC).

Electrical:
* Concealed wiring with super quality cables & switches. Fan, Dimmer & electrical fittings excluded.
* Meters: All apartments will have independent Gas and Electric meter.
* Cable Line: Provision for satellite dish/TV antenna system. Concealed cable outlets in living room & master bed.
* Telephone Line: Telephone socket outlets in master bed and living room.
* Roof: Common to all owners for cloth drying and general use.


Walls & Plaster:

* 125mm thick solid brick walls with well burnt 1st class bricks.
* Proportion 1:6 using 100% sylhet sand to avoid salinity.
* Sand cement plaster using washed clean medium sand. External plaster shall have admixture to protect dampness.

Floors: Floor tiles (Fu Wang/Rak/CBC) in all rooms.

Paintings:

* Interior: Distemper of Berger Robbialac of elegant color.
* Exterior: Weather coat / snowcem paint of berger Robbialac or equivalent of elegant color.

Bath Rooms:

* Good quality standard sanitary fittings.
* Glazed tiles (Fu-Wong / RAK/CBC) up to ceiling height in all toilets wall.
* 300mm x 300mm homogeneous tiles (Fu-Wang) in all floors.
* Provision for Hot & Cold water system with head shower in master bathroom (geyser excluded).
* Good quality local made fittings.

Kitchen:

* 300 mm x 300 mm homogeneous tiles (Fu-wang) in floor.
* Ferro cement work top with homogeneous tiles (Fu-Wang).
* Plastic paint, glazed tiles (Fu-Wang) up to 2'-0" above the work top.
* Single-bow single-tray stainless steel sink. Double burner gas outlet. China origin good quality exhaust fan with cover.


Doors :

* Frame: Shilkarai / Telsu wood with lacquer varnish.
* Shutter: Entrance door of solid wood imported from Malaysia / Indonesia. with i) Door Chain, ii) Check viewer, iii) Apartment No. plate (brass) v) Mortise lock.
* Internal doors shall be of teak chamble veneered partex with lacquer varnish.
* Toilets will have imported uPVC / plastic wood shutter with frame.


Windows :

* Sliding aluminum windows with 3" standard BTA anodized sections with 5mm clear glass (imported) complete with lock, roller & mohair lining.











Location Map: