JollarPar Jeme Mosjid
at
Zindabazar, Sylhet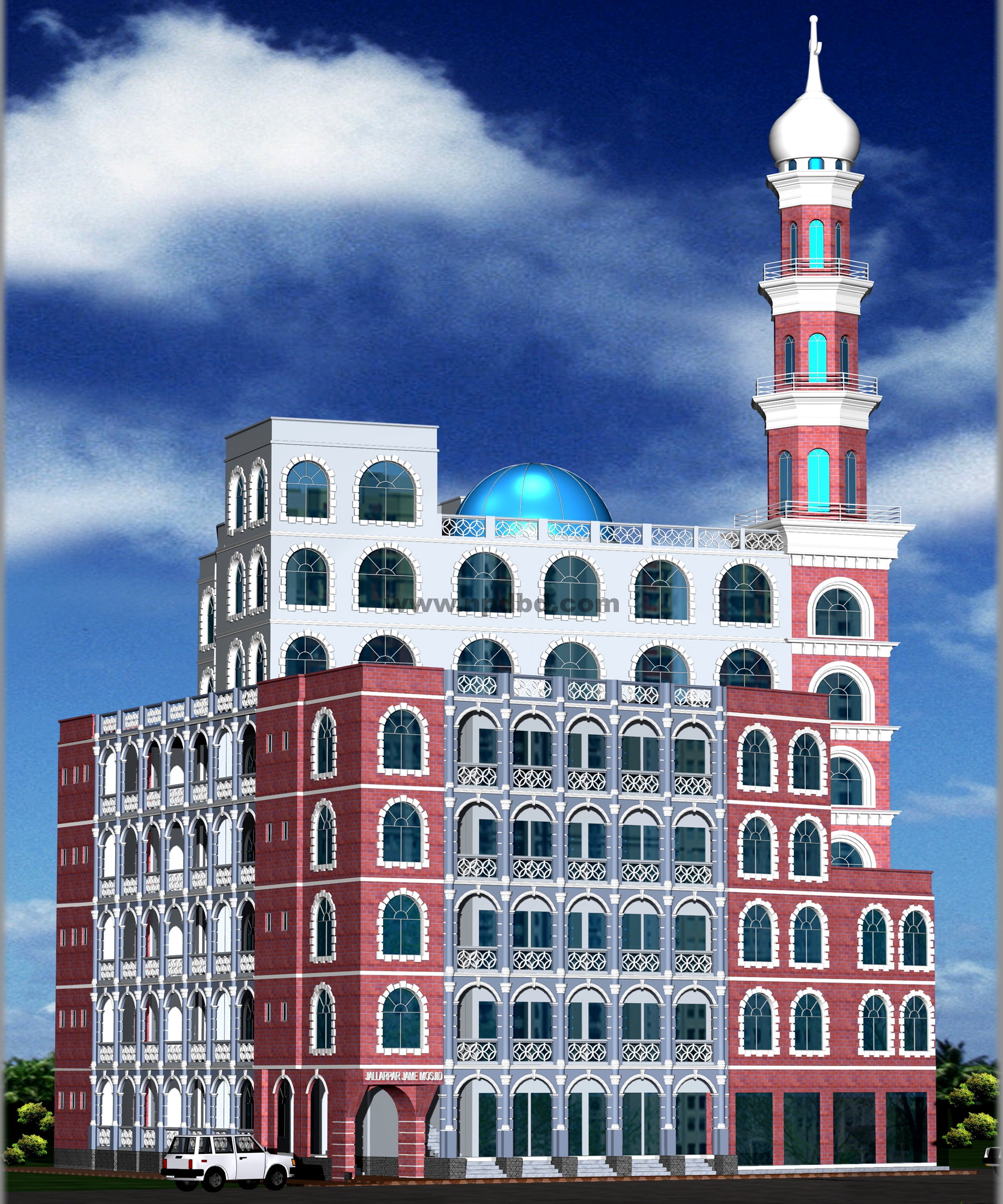 3D Elevation

3D View
More Details:
Project Details
Project Name:
JollarPar Jeme Mosjid
Building Type:
Mosque
Client:
JallarPar Jame Mosjid Committee
Location:
Zindabazar, Sylhet
Height:
158'-8"
Construction Area:
52824 SFT
Ref ID:
188
Work Status:
Ongoing
Service Provided:
Architectural Design
Structural Design
Electrical Design
Plumbing & Sanitary Design
3D Modeling
Description:
"Jallarpar Jame Mosque" is a 08 (eight) storied mosque cum commercial complex which includes one basement. Aristocratic design & fascinating architectural concept makes this mosque complex unique in Sylhet city. Large capacious mosque total of eight floors, available for prayer of about 3000 thousands peoples at the same go. A large spacious atrium will punch all the floors vertically through roof top, allowing sky light to enter the mosque floors through the top. A more than 160 feet height Minar will also increase the beauty and attraction of this mosque. There are separate entrance and service areas for mosque and shops. Parking is also available in the basement of this mosque building. Modern, luxurious, pleasant and contemporary architectural design of the mosque will definitely increase the beauty of this spiritual city where thousands of pious saints has ruled and were resting in this soil.

Location: Jallarpar Jame Mosjid is situated in the heart of the sylhet city, Jallarpar road west Zindabazar. It is just opposite to Dariapara road and about five minute walking distance from Zindabazar point. Sylhet districts judge court, city's busiest place Bondor bazar, Modonmohan College at Lamabazar, Osmani Children Park, Sylhet Women's college, Govt. Alia Madrasa , Kean Bridge etc are within the half a kilometer radius of this mosque.


Briefly "Jallarpar Jame Mosque":

Project Name: Jallarpar Jame mosque
Project Address: Jallarpar Road, West Zindabazar, Sylhet.
Nos. of Floor: 8 (Eight)
Number of Shops (Road side): 31 (Thirty one).
Mosque: Eight floor spacious mosque with ample
sky light entry facility by a huge atrium punch through top.
Minar: Approximate 160 feet height Minar which will definitely
increase the attractiveness & aristocracy of this mosque building.
Basement floor: Car Parking (Partial)


General facilities & Amenities:

* 01 (one) nos. standard size lift.
* Standby Generator.
* 03 (Three) Spacious stair case.
* Parking facilities in basement.
* Good quality standard glazed tiles for floors.
* Bathrooms fitted with all modern fittings.
* Concealed wiring with super quality cables & switches. Fan, Dimmer & electrical fittings excluded.
* 125mm thick solid brick walls with well burnt 1st class bricks. Proportion 1:6 using 100% sylhet sand to avoid salinity. Sand cement plaster using washed clean medium sand. External plaster shall have

admixture to protect dampness.
* Tiles (Fu Wang/Rak/CBC) will be in all through the floors and walls of the mosque.
* Painting: Distemper of Berger Robbialac of elegant color for interior and Weather coat / snowcem paint of Berger Robbialac or equivalent of elegant color for external use.
* Good quality standard sanitary fittings.


Structural Feature:

• Total project will be designed and supervised by the experienced and professional structural design engineers.
• Building design parameters will be based on Bangladesh National Building Code (BNBC), American concrete institute (ACI) and American Standard of Testing Materials (ASTM) Codes.
• Comprehensive checking and testing of concrete & reinforcement at recognized testing authority such as BUET, SUST, Bangladesh House Building Research Institute etc.
• Earthquake and Wind force intensity has been considered in structural design as per Bangladesh National Building Code (BNBC).






Location Map: